Arrow Trader 5
Installation Guides

Admin Modules

References

Arrow Trader Core
Installation Guides

Admin Modules

References

Arrow Trader eXtreme V2
Installation Guides

Admin Modules

References

Arrow Trader eXtreme V1
Installation Guides

Admin Modules

References

Arrow Trader Lite 3
Installation Guides

Admin Modules

References

Q&A
Getting started

Search
atx - settings
From the ATX settings page you can change many more general settings to control ATX behaviour.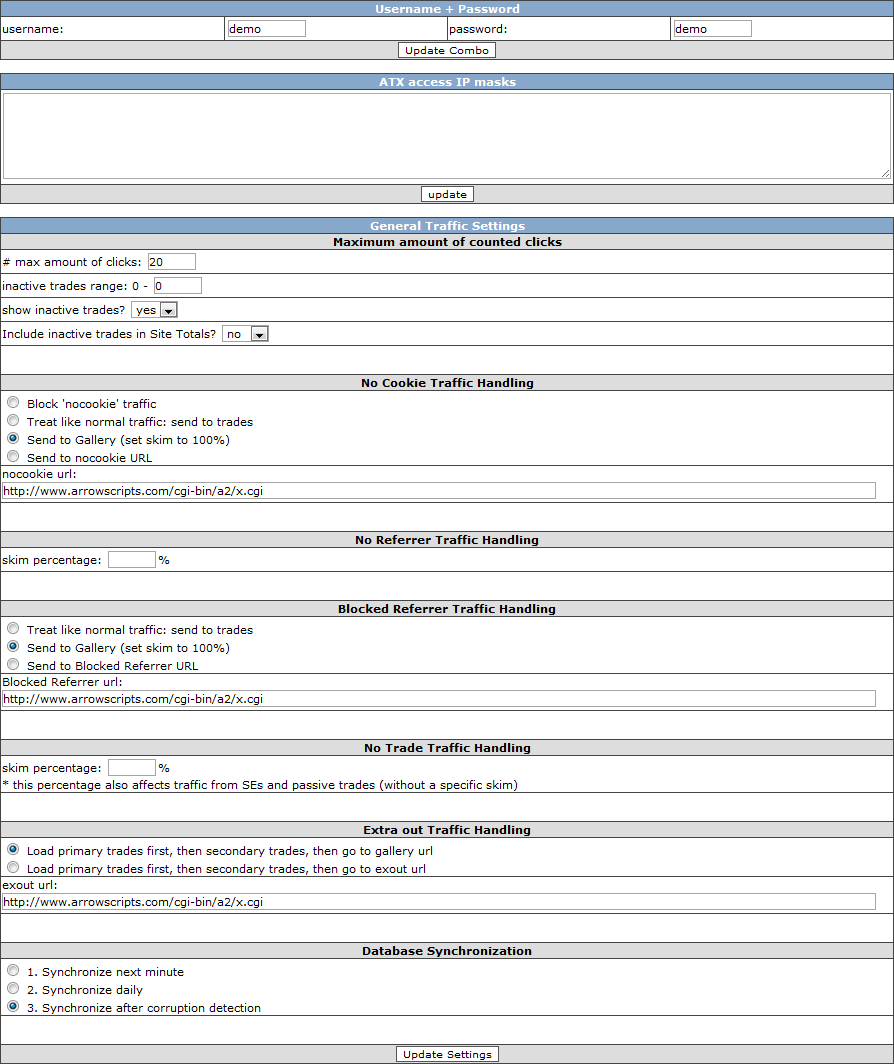 1. username + password
This is the username + password you use to login to ATX.
It's a good idea to change your login once per month.
Many software /network attacks happen after probes from well over a month ago.
Make sure that your password doesn't appear on any dictionary-attack lists;
http://www.google.com/search?q=download+dictionary+attack+list
ATX automatically blocks IPs for a period after several failed login attempts

2. ATX access IP masks
Fill out all IPs that will be logging in to your ATX admin.
With no IP filled out, all IPs are allowed.
The whitelist supports masks, so if your IP changes for example from
82.101.157.1 to 82.101.157.255, you can write down 82.101.157

3. Maximum amount of counted clicks
ATX can limit the amount of clicks are counted when calculating the value of a trade.
When this value is set to 20, and a surfer makes 40 clicks, then only the first 20 are counted as real.

4. No Cookie Traffic Handling
ATX gives all surfers a cookie via in.cgi, to keep track of his activities on your site.
When a surfer clicks a link to out.cgi and no cookie is present, we have several options
on how to treat this surfers;
- Blocking nocookie traffic means they receive a blank page. This is not desirable unless you have a specific reason to do so
- Send to trades is also not desireable; your trades will be able to see the surfer coming from you, but any clicks he produces
on the site of your trade won't be counted, so it will look like you're sending out low-prod traffic.
- Send to Gallery is the default setting. You can probably still turn these surfers into sales.
And by not sending the surfer to a trade, he will only see galleries, which increases the chance of getting
a new bookmarker out of it.
- Send to nocookie url, if you have a special page informing surfers about cookies, or perhaps if you want to
feed a new site, this is an option.

5. No Referrer Traffic Handling
If you wish to give your noref traffic (mostly bookmarkers) a different skim percentage,
fill out the new percentage out here. When left blank, the skim percentage in the url is used.

6. Blocked Referrer Traffic Handling
Surfers who have the referrer field blocked in their browser can not be tracked by most of your trades,
so sending these surfers to your trades is a waste. We recommend that you send these surfers to galleries,
or to a special url, perhaps a new site that you wish to grow.

7. No Trade Traffic Handling
If you wish to give your notrade traffic (search engines, sites youre not trading with) a different skim percentage,
fill out the new percentage out here. When left blank, the skim percentage in the url is used.

8. Extra out Traffic Handling
When a surfer has visited all your trades and clicks again, he will be send to either a gallery or to exout.
Extra hits out mean that you have more hits out from a surfer than you have trades available.
If you have enough trades (20+) you will most likely have 0 exouts.
You can choose to send these extra clicks to galleries, or to a special url.
9. Database Synchronization
ATX works with a per-minute timeline, which means that every minute the amount of hits and clicks for that minute is recorded.
If for some reason ATX isn't able to update the database every minute, because your server was rebooting, or busy doind something else,
the database goes out of sync, resulting in inaccurate statistics. ATX can repair this by synchronizing the database again.
To force a synchronization run, select "Synchronize next minute". Otherwise, we recommend synchronizing once per day,
or if your server is very stable and you receive plenty of traffic, set it to run after a corruption has been detected.

10. Cron Delay
The ATX cron runs every minute. When you have a large amount of ATX copies installed on a single server,
consider using a small delay between the cron runs, to avoid load spikes.
A delay of 1 second per 1 or 2 ATX installations is plenty.
Help us improve our articles by rating them
- This article is -

Too long & complicated

Too short & simple

Not relevant enough

Just about right
6914