Arrow Trader 5
Installation Guides

Admin Modules

References

Arrow Trader Core
Installation Guides

Admin Modules

References

Arrow Trader eXtreme V2
Installation Guides

Admin Modules

References

Arrow Trader eXtreme V1
Installation Guides

Admin Modules

References

Arrow Trader Lite 3
Installation Guides

Admin Modules

References

Q&A
Getting started

Search
ATX - file check
The file check tools verifies the integrity of all program files.
The digital checksums of all files are compared against an online database.

checksum Failed - The checksum of this file doesn't match the checksum in the online database from arrowscripts.
This means that either the file has been modified, or ATX wasn't able to read the file. This may be the case for installer files, which should be set to 0 permissions after installation
Unknown File - This filename doesn't appear in the online database from arrowscripts at all.
These files can be core dumps (the extension will be .core), which can safely be deleted.
In case any other files are unknown, contact support to help identify the file.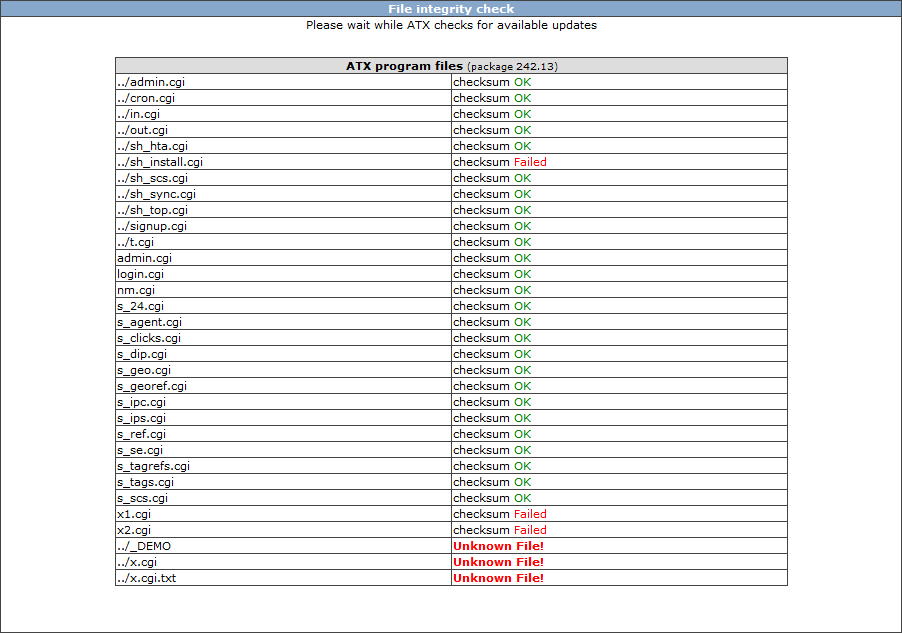 Help us improve our articles by rating them
- This article is -

Too long & complicated

Too short & simple

Not relevant enough

Just about right
6333