Arrow Trader 5
Installation Guides

Admin Modules

References

Arrow Trader Core
Installation Guides

Admin Modules

References

Arrow Trader eXtreme V2
Installation Guides

Admin Modules

References

Arrow Trader eXtreme V1
Installation Guides

Admin Modules

References

Arrow Trader Lite 3
Installation Guides

Admin Modules

References

Q&A
Getting started

Search
tools - htaccess
ATC includes a total solution for htaccess file management.
The htaccess file controller is designed to take complete control of your htaccess.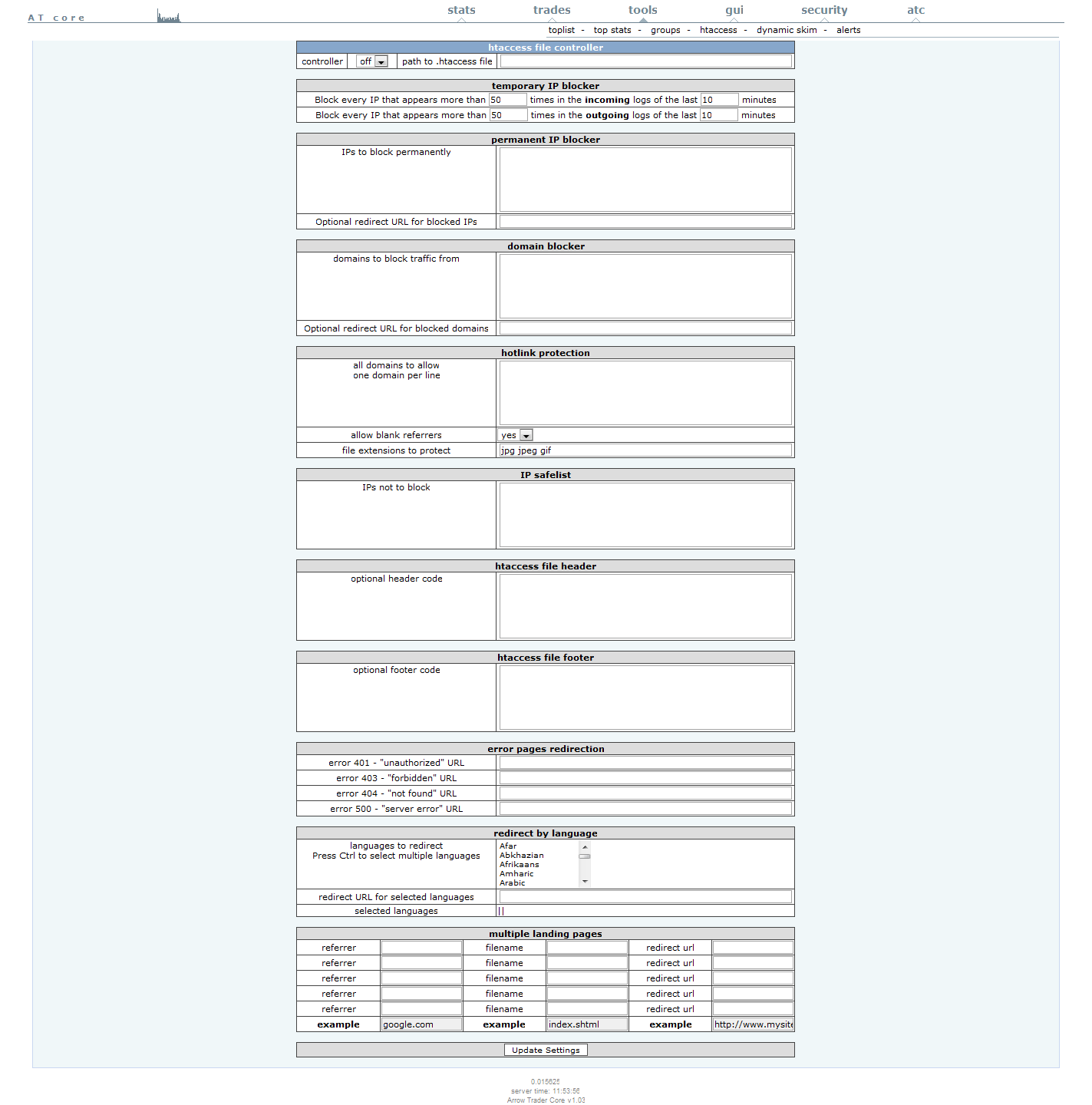 1. controller
When the controller is disabled (off), it will not update your htaccess file.
When enabled, it will update your htaccess every 3 minutes if neccesary.
The path to the htaccess file must be the full server path, something like
/usr/webmaster/www/domain.com/htdocs/.htaccess
The path is different for every domain / server of course
To use multiple htaccess files, use the comma (,) to seperate each one

2. Temporary IP blocker
Conditional IP blocked based on frequency in a short time span is a great way to quickly block
site suckers, hitbots, and other spikes in traffic that aren't real.
Fill out reasonable settings; a normal surfer for example will not likely click 50 times in the past 30 minutes (outgoing)
and he certainly won't load your site more than 10 times in the past 30 times (incoming).
This function only look at the last xx minute logs (30 for example).
As soon as the IP doesn't appear anymore in the logs he will no longer be blocked.

3. Permament IP blocker
All IPs listed here are permanently blocked by htaccess.
Try to keep this list short to avoid unneccesary server load.

4. Domain blocker
To block traffic coming from certain domains, fill out those referring domains here, one per line.

5. hotlink protection
Hotlink protection keeps outside domains from hotlinking (deeplinking) your images.
For example, if your site is hosting www.a.com/picture.jpg, the hotlink protection makes sure that
site b.com won't be able to display picture.jpg on his site, and steal your bandwith.
If you wish to use this feature, fill out all domains that are allowed to load your files.
Allow blank referrers, so bookmarkers and other non referrer surfers can see your pictures.

6. IP safelist
Write down all IPs you don't want to block. You may want to whitelist your own IP,
so you don't get blocked while working on your site. Also write down search engine spiders, etc.
Visit http://iplists.com/ for more IPs of search engines.

7. htaccess file header
8. htaccess file footer
htaccess supports many more functions than the ATC htaccess controller offers.
To insert code before or after the ATC htaccess code, write it down in these 2 forms
The output order is:
1. custom htaccess file header
2. atc htaccess code
3. custom htaccess file footer

9. error pages redirection.
The default error pages of apache aren't very attractive.
A lot of error page loads are the result of old links pointing to non existing pages.
Its a good idea to capture these hits and redirect them to your main page, or to a modified page

10. redirect by language
To redirect incoming traffic based on the lanuage set in the surfers browser
select the countries you wish to redirect, and fill out the redirect url
You may wish to redirect low prod or low revenue traffic, like chinese surfers
so you don't end up wasting bandwith or poor outgoing hits on them.

11. multiple landing pages
If you wish to offer your surfers multiple landing pages,
fill out the referring domain and the filename they are requesting, and the redirect url
This is especially useful to match the layout of your trades.

Help us improve our articles by rating them
- This article is -

Too long & complicated

Too short & simple

Not relevant enough

Just about right
7195