Arrow Trader 5
Installation Guides

Admin Modules

References

Arrow Trader Core
Installation Guides

Admin Modules

References

Arrow Trader eXtreme V2
Installation Guides

Admin Modules

References

Arrow Trader eXtreme V1
Installation Guides

Admin Modules

References

Arrow Trader Lite 3
Installation Guides

Admin Modules

References

Q&A
Getting started

Search
tools - alerts
ATC monitors your site every minute and can alert you as soon as a critical level is reached.
It uses the program sendmail to send emails to your email address.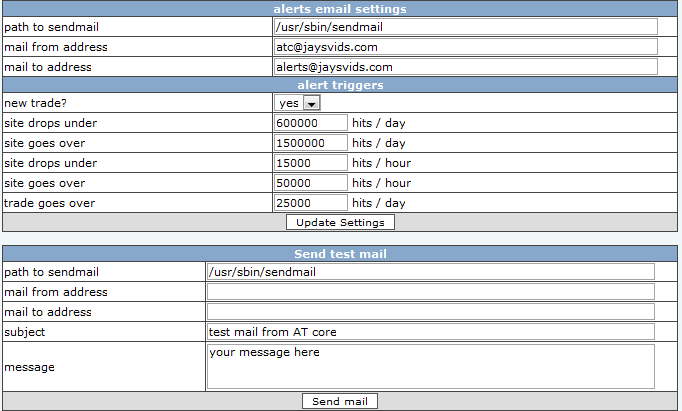 sendmail
The path to sendmail is the path to the actualy program file
The path is usually /usr/sbin/sendmail or /usr/bin/sendmail
To find out where sendmail is installed, login via shell and type
whereis sendmail or ask your hosting support
The mail from address should be you@yourdomain.com
The mail to address can be anything you like.

alert triggers
ATC can alert you about several events.
Most users prefer to receive an email when a new trade has signed up,
and when the site has passsed a certain size level.

Help us improve our articles by rating them
- This article is -

Too long & complicated

Too short & simple

Not relevant enough

Just about right
6527