Arrow Trader 5
Installation Guides

Admin Modules

References

Arrow Trader Core
Installation Guides

Admin Modules

References

Arrow Trader eXtreme V2
Installation Guides

Admin Modules

References

Arrow Trader eXtreme V1
Installation Guides

Admin Modules

References

Arrow Trader Lite 3
Installation Guides

Admin Modules

References

Q&A
Getting started

Search
security - blacklist
ATC supports 6 different types of blacklists, giving you many different ways to keep bad trades out.
A blacklist prevents trades that meet (or don't meet) certain conditions.
A blacklist does not block traffic from a trade. Thats what the htaccess controller is for.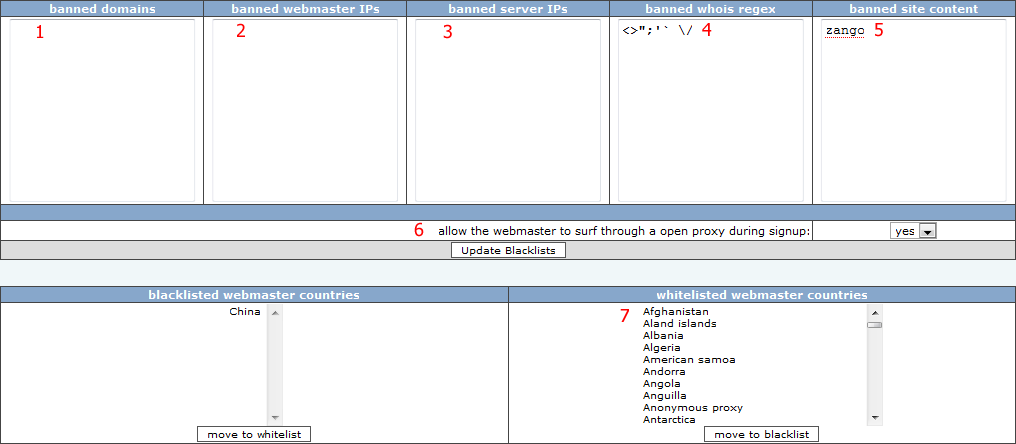 1. banned domains
All domains listed here will not be able to signup via the public signup form
2. banned webmaster IPs
A webmaster surfing the public signup form with a IP thats listed here will not be able to add trades.
3. banned server IPs
Each domain can be traced back to a server IP. By blocking the server IP of a domain,
you prevent other trades from the same webmaster from being added to your site.
4. banned whois regex
whois data presents basic registration data about a domain.
You may wish to block certain people or domain hosters from adding a trade.
5. banned site content
ATC can scan through the source code of newly submitted trades and scan for
certain words or code strings. When these strings are found, the trade is denied.
Think about exploits, iframes, virus code, illegal content, etc.
6. proxy surfing
Blocking the IP of a webmaster is usually enough to keep him out for a long time.
Some of the more persistent cheaters however will try again by surfing through a proxy.
Disallow proxy surfers on your signup form to stop these as well.

7. blacklisted / whitelisted countries
When a surfer visits your signup page, ATC quickly looks up the country that belongs to his IP.
This way we can disallow surfers from certain countries from adding trades.
By default all countries are whitelisted and allowed.
Move some countries to the blacklist to reject them.
Hold down the control or shift button to make large selections.

Help us improve our articles by rating them
- This article is -

Too long & complicated

Too short & simple

Not relevant enough

Just about right
6511