Arrow Trader 5
Installation Guides

Admin Modules

References

Arrow Trader Core
Installation Guides

Admin Modules

References

Arrow Trader eXtreme V2
Installation Guides

Admin Modules

References

Arrow Trader eXtreme V1
Installation Guides

Admin Modules

References

Arrow Trader Lite 3
Installation Guides

Admin Modules

References

Q&A
Getting started

Search
trades - bulk add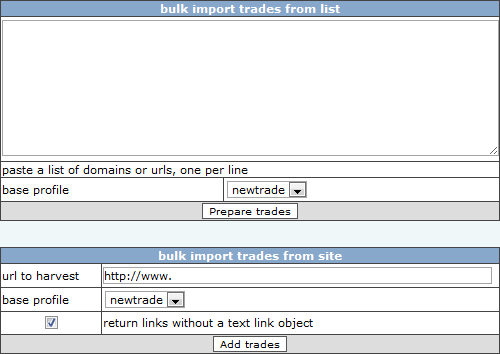 ATX offers two ways of bulk adding trades, via direct input, and by harvesting links from a website

1. bulk import trades from list
Fill out all domains + urls that you wish to add as trades
and select a base profile for the trade settings. Click the prepare trades button, and ATX will display two tables
The settings for trades table displays the trade settings that all trades you're adding will receive
The second table displays the extracted domains / urls. From this page you can also add a site title for the toplist

2. bulk import trades from site
This tool gathers all anchor links from a website,
and present them in the bulk add trades table.
The title of the links becomes the title of the trade.
By selecting return links without a text link object ATX will also gather links
with for example images as the link object.
Help us improve our articles by rating them
- This article is -

Too long & complicated

Too short & simple

Not relevant enough

Just about right
6361