Arrow Trader 5
Installation Guides

Admin Modules

References

Arrow Trader Core
Installation Guides

Admin Modules

References

Arrow Trader eXtreme V2
Installation Guides

Admin Modules

References

Arrow Trader eXtreme V1
Installation Guides

Admin Modules

References

Arrow Trader Lite 3
Installation Guides

Admin Modules

References

Q&A
Getting started

Search
trades - signup form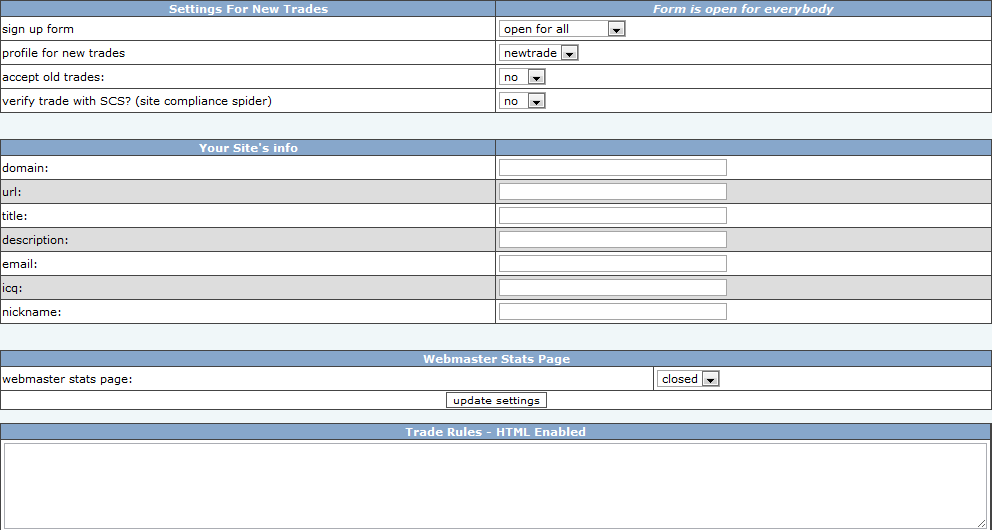 The signup form is located at the following url
http://www.yourdomain.com/cgi-bin/a2/signup.cgi
Via the signup form, both partners and new webmasters can add their sites to start new trades with your website. The following settings are available to control the signup form

sign up form: closed, open for partners, open for all
When the signup form is closed, the only way to add new trades is via the ATX admin
When the signup form is open for partners, a username + password is required to be able to add trades.
Trades added by partners start with the trade profile that you have assigned to this partner account via Tools - Profiles
When the signup form is open for all, both partners as well as non-partners can start new trades.
profile for new trades
Non-partner trades start with the trade profile that is selected in this dropdown menu list
accept old trades:
When you delete a trade, the domain is moved to the old trades list,
which you can find under Trades - Old.
With this setting you can accept previously deleted trades to be added again via the signup form
verify trade with SCS?
When enabled, every new trade added via the signup form is checked by the Site Compliance Spider first.
If the trade breaks any rules set by the SCS, the trade will not be added. Instead the error message is displayed.
The table Your Site's info displays the info of your site,
so that your new trade partner can correctly add your site to his trade program.
Webmaster Stats Page
Open or close a small statistics overview for your trade partners,
allowing them to view the statistics of their trades with you.
This statistics page is accessible via the signup form.
Trade Rules - HTML Enabled
All html code written here is displayed on your signup form.

Help us improve our articles by rating them
- This article is -

Too long & complicated

Too short & simple

Not relevant enough

Just about right
6384