Arrow Trader 5
Installation Guides

Admin Modules

References

Arrow Trader Core
Installation Guides

Admin Modules

References

Arrow Trader eXtreme V2
Installation Guides

Admin Modules

References

Arrow Trader eXtreme V1
Installation Guides

Admin Modules

References

Arrow Trader Lite 3
Installation Guides

Admin Modules

References

Q&A
Getting started

Search
trades - accounts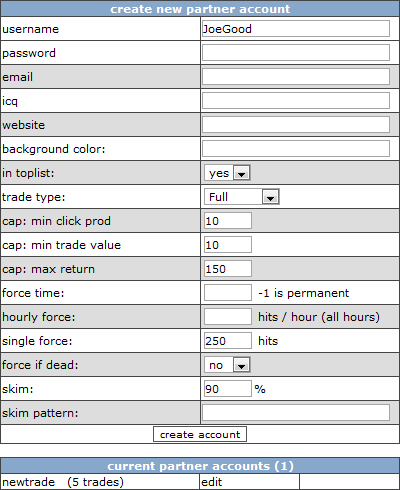 ATX features an easy to use partner system, which can automatically assign co-operative settings to new trades submitted by trusted webmasters.
The default settings profile that is assigned to new trade is the newtrade profile.
The default profile for new trade and it's settings can be changed via Trades - Signup Form.
Trusted trading partners can be given their own account, with better settings, such as a strong force.
When a trusted trade parter uses his account data on your site while registering a new trade,
the trade begins automatically with a force. This way you don't have to monitor and modify every new trade.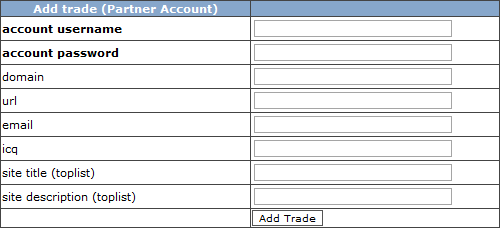 Help us improve our articles by rating them
- This article is -

Too long & complicated

Too short & simple

Not relevant enough

Just about right
6259