Arrow Trader 5
Installation Guides

Admin Modules

References

Arrow Trader Core
Installation Guides

Admin Modules

References

Arrow Trader eXtreme V2
Installation Guides

Admin Modules

References

Arrow Trader eXtreme V1
Installation Guides

Admin Modules

References

Arrow Trader Lite 3
Installation Guides

Admin Modules

References

Q&A
Getting started

Search
tools - groups
By creating niche groups, you can send surfers to niche-trades that match their interests.
By default, when the skim selects a surfer to be send to a trade instead of a gallery,
all trades from the main outlist are loaded.
Groups are mini versions of outlists, containing only the trades that belong to a certain category.
When the skim selects a surfer to be send to a trade instead of a gallery while using groups,
only trades from the group outlist are loaded.

For example, if your mainpage lists gallery links to both picture galleries and movie galleries,
and you also have trades that can clearly be grouped into picture trades and movie trades,
the logical step is to make two groups, a pics group and a vids group.
Edit all your gallery links and add &gr=pics to all links that go to picture galleries
and add &gr=vids to all links that go to movie galleries.

Of course you can also use niches, media formats, site types, etc for grouping.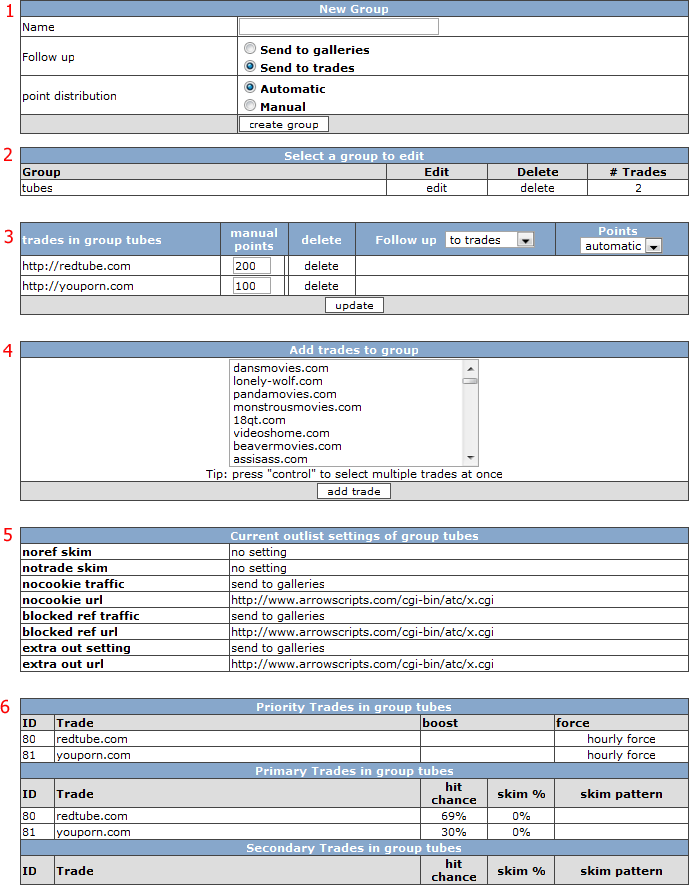 1. new group
To create a new group, fill out the name of the group and hit the create group button. Don't use spaces or special characters.
We recommend that you use short groupnames as they do show up in the url.
2. select group
To edit or delete a group, click the appropiate link in this table
3. edit group
You can basically edit 3 things in a group;
- The amount of points each trade has when 'points' is set to manual mode
- The follow up; what should happen with a surfer once he has visited all trades in a group;
Should he see other trades, or just galleries from now on
- Should ATC automatically calculate the amount of points each trade in the group deservces,
or should it use the manually assigned amount of points when building the group outlist.
4. add trades to group
Add at least 1 group to a trade. When there's a low amount of trades in your group (less than 5),
pay extra attention to the follow up setting.
5+6. outlist of group
A group outlist is a mini-version of the regular outlist.

Help us improve our articles by rating them
- This article is -

Too long & complicated

Too short & simple

Not relevant enough

Just about right
6117