Arrow Trader 5
Installation Guides

Admin Modules

References

Arrow Trader Core
Installation Guides

Admin Modules

References

Arrow Trader eXtreme V2
Installation Guides

Admin Modules

References

Arrow Trader eXtreme V1
Installation Guides

Admin Modules

References

Arrow Trader Lite 3
Installation Guides

Admin Modules

References

Q&A
Getting started

Search
tools - dynamic skim
Dynamic skimming triggered by trade conditions keep your sites running in case something goes wrong.
Temporary server problems, network problems, or just a bad batch of links on your site can have a
disastrous effect on your productivity and on your traffic return levels. Such temporary problems can quickly put your site in a endless downwards spiral. ATX protects your site against this by monitoring your return to trades. When you're normally returning 120% to trades and all of a sudden the last hour you're only at 70%,
say because your server went became very slow or something was wrong with your outgoing links
ATX can quickly lower the skim to boost the traffic to your trades, and kick-start your site again.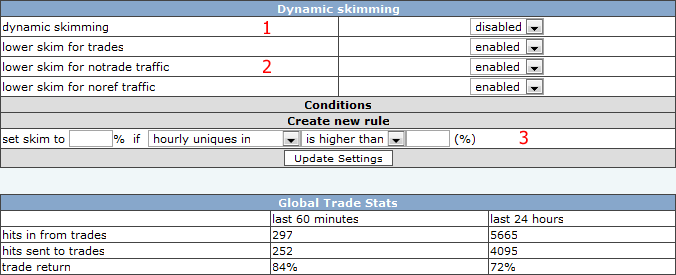 1. dynamic skimming
To enable conditional skimming, set this to enable.
When enabled and in effect, the dynamic skimming module overwrites the skim percentage for each trade in your outlist
It has a higher priority than the regular url skim or per-trade skim.

2. traffic selection
Dynamic skimming can be enabled for 3 types of traffic; trades, notrade, noref.
In some instances you may wish to just alter the skim for trades + notrades, keeping noref
at its regular level, to please your bookmarkers.

3. conditions
To create a condition, fill out the the new skim percentage, a trade value, and its condition.
Here are some examples
set skim to 40% if hourly trade return is lower than 100%
If your site always has a return of 140% to trades with a skim of 60%,
then this setting will quicly send more to your trades when there's a drop in your returns
set skim to 60% if hourly uniques in is lower than 500
If the minimum amount of hits you receive per hour is around 700, then a drop to 500
can indicate that something out of the ordinary has happened. Perhaps one of your bigger
trades has stopped the traffic flow. Its important now to quickly boost your trades a bit
and let a new trade grow to take its place.
Help us improve our articles by rating them
- This article is -

Too long & complicated

Too short & simple

Not relevant enough

Just about right
6153